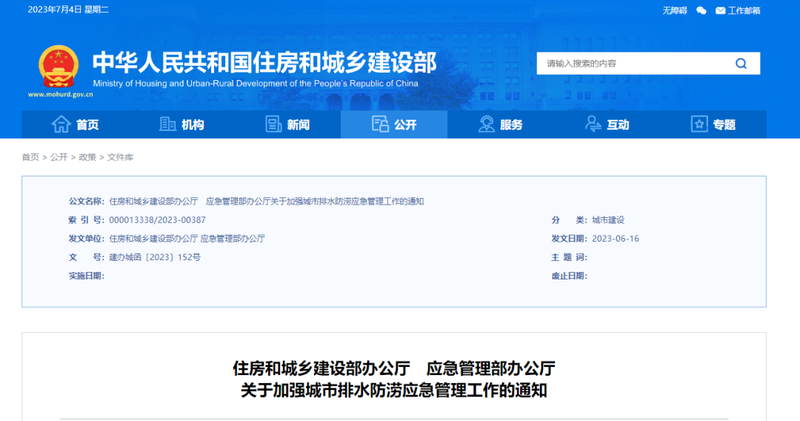 Departments of Housing and Urban-Rural development and Emergency Management of provinces and autonomous regions, Beijing, Tianjin, Shanghai Water Administration, Emergency Management Bureau, Chongqing Housing and Urban-Rural Development Commission, Emergency Management Bureau, Hainan Water Affairs Department, Xinjiang Production and Construction Corps Housing and Urban-Rural Development Bureau, Emergency Management Bureau:
  To implement the decision of the Central Committee of The State Council and the work requirements of the national flood control and drought Relief headquarters,In accordance with the requirements of the "Notice of the General Office of the Ministry of Housing and Urban-Rural Development and the General Office of the National Development and Reform Commission on doing a good job in 2023 Urban drainage and flood prevention Work" (Construction Office City Letter (2023) No. 99),All localities are requested to further improve their emergency mechanisms for drainage and waterlogging prevention,We will do a good job in urban drainage and waterlogging prevention emergency management,We will strengthen coordination in emergency response,We will ensure the safety of cities during flood season。The relevant matters are hereby notified as follows:
First, strengthen overall planning at the provincial level and establish a cross-regional emergency coordination mechanism
  All localities shall clarify the responsible persons for drainage and waterlogging prevention at the provincial and municipal levels and disclose them to the public。In accordance with the requirements of the "Implementation Opinions of The General Office of the State Council on Strengthening Urban Waterlogging Control" (State Office of Development (2021) No. 11), the management system of provincial responsibility and urban implementation shall be implemented。The departments of housing and urban and rural construction (water affairs) in each province (autonomous region) shall find out the bottom number of urban emergency pumping equipment and emergency rescue personnel in their region,Establish a cross-regional emergency coordination mechanism in the province (autonomous region),To a radius,In a number of cities with moderate locations to establish provincial regional emergency centers,Implementation of provincial overall planning, unified command, unified dispatch,When waterlogging occurs in cities in the region and local emergency forces are unable to respond effectively,Initiate emergency response immediately,Arrange nearby cities for support,Do a good job in the province "a game of chess" overall scheduling。
Second, strengthen departmental coordination and timely emergency response
  The competent municipal drainage departments shall strengthen coordination and cooperation with the departments of transportation, water conservancy, emergency, energy, meteorology, fire control and so on,Establish working mechanisms for consultation, research and judgment, emergency rescue and information sharing,Accurately analyze the situation of meteorological disasters such as rainstorms and typhoons,Scientifically predict disaster losses, the scale of emergency forces that need to be mobilized, and whether provincial departments need to coordinate and support,Clear the emergency response activation conditions of urban drainage authorities。When the conditions for starting are met, the emergency response of the department shall be immediately activated, and the flood control and drought relief command agency at the same level shall be requested to start the corresponding level of emergency response for urban waterlogging disasters。
Third, improve emergency plans and effectively respond to risks
  Urban drainage departments shall organize the revision of urban drainage and waterlogging emergency preplans,It mainly includes the basic situation of urban waterlogging disaster, organizational system and responsibilities, prevention and preparation, monitoring and early warning, emergency response, rescue and rescue, emergency support, post-disaster recovery and so on,And do a good job of connecting with the flood control emergency plan at this level,Submit to the flood control and drought relief headquarters at the same level for examination and approval。It is necessary to combine the post-disaster review and the revision of the emergency plan, and find out the shortcomings of the emergency plan in time and improve it after the end of the emergency response。It is necessary to reasonably determine the depth of drainage and flood prevention emergency plans at different levels, such as provinces, cities, districts (counties), streets (towns), and communities, to avoid "generally thick".。Urban drainage authorities should be combined with the history of waterlogging events, find the risk areas, where conditions can be combined with Zhengzhou "7·20" rainstorm, the history of the local maximum rainfall data superposition simulation, accurately grasp the local waterlogging risk areas。
Fourth, strengthen the construction of emergency teams and strengthen preventive measures in key parts
  All localities should organize relevant units to form a professional emergency rescue team, increase equipment investment, and strengthen daily training and education。When carrying out emergency drills and emergency rescue, it is necessary to do a good job of on-site safety management, strictly abide by the operating procedures, and implement safety measures to avoid safety accidents such as casualties of front-line operators。For underground space entrances, tunnels, subway station entrances and other areas with high risk of waterlogging, emergency supplies should be stored in time to prevent flooding and flooding。Conscientiously implement the deployment requirements of the Ministry of Housing and Urban-Rural Development to promote the lifeline safety project of urban infrastructure on-site conference, combined with local realities, strengthen the intelligent monitoring of drainage and waterlogging facilities and waterlogging prone points through digital means, and prevent and resolve the risk of waterlogging。
5. Strengthen emergency drills based on actual combat needs
  Local drainage authorities at all levels should regularly organize emergency drills, not only to carry out the prescribed situation drills, but also to carry out the "double blind" drill without notifting the participating units of the drill time, location and drill content。Provincial exercises should focus on improving cross-regional mobilization capacity in the event of major waterlogging disasters and carrying out emergency command exercises。City and county drills should pay attention to close to actual combat, and strengthen the coordination and interaction between drainage and emergency management departments and relevant departments。Drainage facilities operation and maintenance unit drills should focus on improving personnel's proficiency in the transportation and use of emergency equipment。Grassroots drills such as streets, communities and key units should pay attention to the use of precautionary measures in advance, transfer risk-aversion measures, encourage the masses and employees of the unit to actively participate, and improve the ability of mass prevention and control, self-rescue and mutual rescue。
  With a high sense of political responsibility, all localities should further do a good job in urban drainage and flood prevention emergency management, firmly establish the bottom line thinking and limit thinking, and carefully arrange and deploy to ensure the safety of urban flood。
General Office of the Ministry of Housing and Urban-Rural Development
Office of Emergency Management
June 16, 2023
——来源于China Property Management Association Ministry of Housing and Urban-Rural Development
   If you have copyright problems, please contact delete!